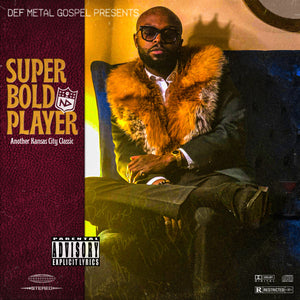 Irv Da PHENOM! RETURNS! In 2020, the world has been turned upside down by racism, a pandemic, politics, and a global lockdown. When it feels you can count on nothing else, PHENOM! returns with the creativity, charisma & incredible sound listeners know him for.

More than just the comfort of familiarity, and nostalgia of a time when emcees & singers strived for mastery at their craft, Super Bold Player showcases the fine tuning of Irv's sound as well as invites listeners into his new world filled with life lessons, deeper knowledge of self, Black business ownership, & fatherhood, all while smoothly gliding through R&B/Soul vocals & finessing the nimble & quick witted flow that XXL Magazine named him one of "Hiphop's Fastest Emcees" for.

Honest, unique, gripping. SUPER BOLD. PLAYER.
*Best experienced while burning SUPER BOLD MANIFESTATION CANDLE*